Up until 2015 or so, the best decision that I ever made in my entrepreneurial career had been to sell stock photography online. To be honest, I was never much of a photographer. Selling my work as "stock" had never been high on my list of things to do as I charted my path towards financial independence.
For those of you who aren't familiar with this business model, it's actually very simple: you upload your photos or artwork to an online agency (examples of agencies I've had great success with are listed below), and they sell those images to anyone who needs them for their websites, blogs, magazines, etc .
They take a commission for the sale (usually 50%), and you get the rest. How much easier can it get than that? It's easy money once you build a sizable portfolio of images. I had about 1500 in total.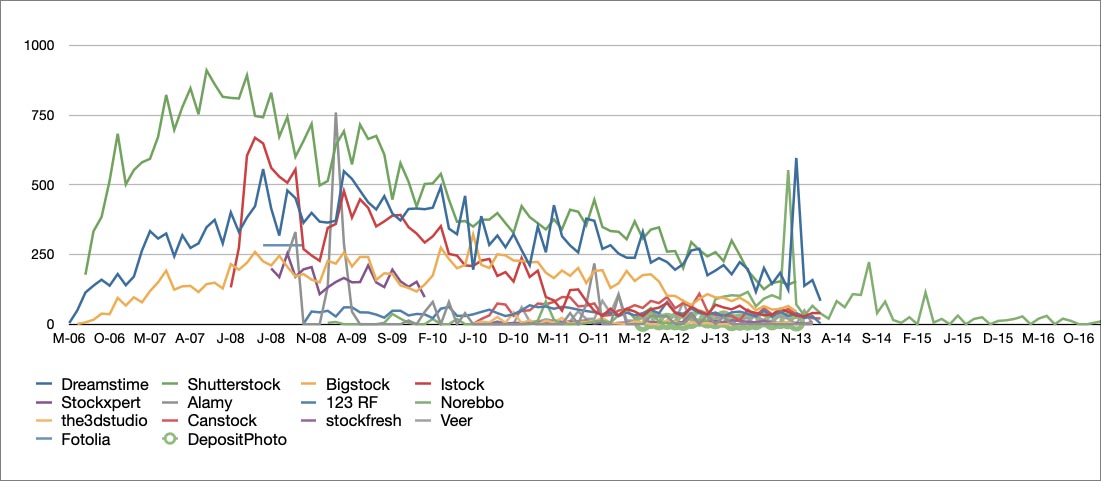 How I got started selling stock photos
I started selling my photos in 2006, but I eventually switched to selling my artwork (3d  renderings) instead because that's what I was good at. I was (and still am) a terrible photographer.
I'm not going to lie – the hours were long, and I spent many an evening and weekend sitting at my computer making images just for the sole purpose of selling as royalty-fee stock.
It took about two years of this continued hard work before I had built up a large enough portfolio which would allow me to take many months off at a time without uploading any new content (and the sales kept coming in). It felt like a miracle once I reached that point. Once at that level, my earnings were on autopilot.
In 2014, I burned out. Competition was increasing, and I wasn't making as much money as I used to. I decided to refocus all my energy selling images on my own website instead (which turned out to be a great decision).
A breakdown of how much money I earned (from the top sources):
I did sell my work through a variety of agencies, but the following are the ones that I had the best experiences with:
Dreamstime: Total sales: $35,773
I really don't know why I chose Dreamstime.com as the first agency to join way back in May of 2006. I vaguely recall learning about it through a banner advertisement I saw on another website, and I was intrigued by the thought of selling my own photos for royalties.
I honestly thought that it was an exclusive club that would be impossible to become a member of, but I applied anyway and I was accepted immediately. And so began my stock photo career.
Shutterstock.com was the second agency I signed up for, about two weeks after joining Dreamstime.com. It was after only a matter of days after selling my first image that I realized how profitable things were going to be with Shutterstock.
This agency sells LOTS of images – much more than any other agency, and I recommend signing up with them first before anyone else. You'll get sales almost instantly.
BigStock is hit or miss for many people. Personally, I had lots of luck selling my images there – but others say it's a waste of time. That's the thing with this stock photography…everyone's work is different, and you'll never know how you'll do at one agency over another until you try.
StockFresh: Total sales: $250 (hey – it was a new site)
This was a relative newcomer to the stock photography world at the time, but they were – hands down – my favorite of them all. The site was run by a very level-headed guy who treated his contributors better than any other agency.
Their royalties were the some of the highest in the business, and they had a really simple and easy to use website that just made the entire process feel good. They didn't offer the volume of sales that the other agencies did, but it was a good experience so I was happy to upload my images there.
Shopify: An alternative to the typical stock photo agencies
For anyone with at least an ounce of creative juice flowing through them, selling your photos and artwork as stock through an online agency is perhaps one of the easiest ways to begin down the road to financial independence.
However, due to increased competition from other photographers / artists, I recommend starting your own store with Shopify. potential earnings increase exponentially.
In addition to the list of stock photo agencies below, I've recently discovered that running my own Shopify store and selling bundles of my illustrations (as digital downloads with the Digital Downloads app) is working very well for me at  the moment.
At the time of this writing, I'm making over $1000 a month – and the good news is that I'm seeing that increase month over month without much marketing effort on my end.
What I liked most about the stock photo business
The most important thing to remember is that once you set it up, selling stock photos is a business that pretty much runs itself. Besides the work of actually taking the picture or creating the artwork, it's completely, totally, 100% passive income once it's online and avaialble to customers. You earn while you sleep. I love this kind of stuff!
Lessons learned after selling stock photos online for 9 years
Like all things in life, there is both good and bad in everything. I learned a lot of valuable lessons selling stock photos from 2006 to 2015:
Building my business on someone else's property was so very stupid of me. I should have launched my own website  (and built up my own audience / customer base) years earlier than I did.
While creative concepts sell the best, stock photos and illustrations still need to be generic enough to appeal to many buyers. Finding that balance was really tough for me.
I should have diversified my income streams better. I was basically all-in on stock image production from 2006 until 2014 or so, and when the market got saturated (and sales started to slow), I had nothing to fall back on. That's why I'm working on so many projects in tandem these days (as you saw in my most recent annual business review).
Words of encouragement (and advice) for anyone looking to get into selling stock photos
Selling stock photos (illustrations) was a long and fun journey for me. It took time to build a quality portfolio of photos and illustrations to sell, but I made good money doing it. As a matter of fact, I still recommend it as a viable way to make money online. Just know that:
Just like anything else in life, you'll get out of it what you put in. If you're lazy and highly unmotivated, you won't make money.
The competition is a lot more fierce now than it was back then. Uploading images of flowers and landscapes isn't going to cut it anymore. Pick a very specific (underrepresented) niche, and go all in on that instead.
Consistency and persistence is all you need to succeed. Quitting when things get tough will be tempting – but you have to push on no matter what.