Ok. Now this is a comparison that's worth talking about! I've been using WordPress since 2010 and Shopify since 2015, and both continue to be pretty much the core of my business right now. Could I live without one or the other? Probably. But I wouldn't want to. The best way to explain my reasoning for this is to do a deep-dive comparison of WordPress vs Shopify – comparing the features of both to show you exactly why they work so brilliantly together.
For those of you who just want to use one of these two e-commerce platforms, don't worry. Both Shopify and WordPress are fully capable and feature-rich enough to be your sole platform on the Internet. You don't need both, but I highly recommend it.
WordPress vs Shopify: a brief summary of all the similarities and differences
If you're reading this article, I'd assume you already know what WordPress and Shopify are. I'm going to skip doing an introduction and explanation of both, other than just saying that you can't go wrong with either one.
Long story short, choose WordPress if your primary goal is long form content (such as articles and videos). Choose Shopify if your primary goal is having an e-commerce store that is up and ready to go within minutes.
| | WordPress | Shopify |
| --- | --- | --- |
| One-click setup (sell products without any plug-ins or add-ons) | | |
| Robust content management system for long-form content (articles, videos, etc) | | |
| Integrates well with email marketing campaigns and paid advertising | | |
| Active developer support with frequent updates | | |
| Extensive third-party theme and plug-in development | | |
| Active community base | | |
| Better for content creators who sell products infrequently | | |
| Better for marketers who create content (blog posts / videos) infrequently | | |
| Cost | Free if you use the self-hosted version. Otherwise, business plans start at $25/mo. | $29/mo |
| | | |
Personally, I'm using both Shopify and WordPress in conjunction with one another to make over $1000 a month selling digital products. I do this by writing content around those products in my blog, and then I link out to my Shopify store with very clear call to action buttons. It's a brilliant combination, and it's working very well for me.
Please note: some of the links in this article may be affiliate links. This means that I will get paid a commission if you buy something or take an action after clicking one of them.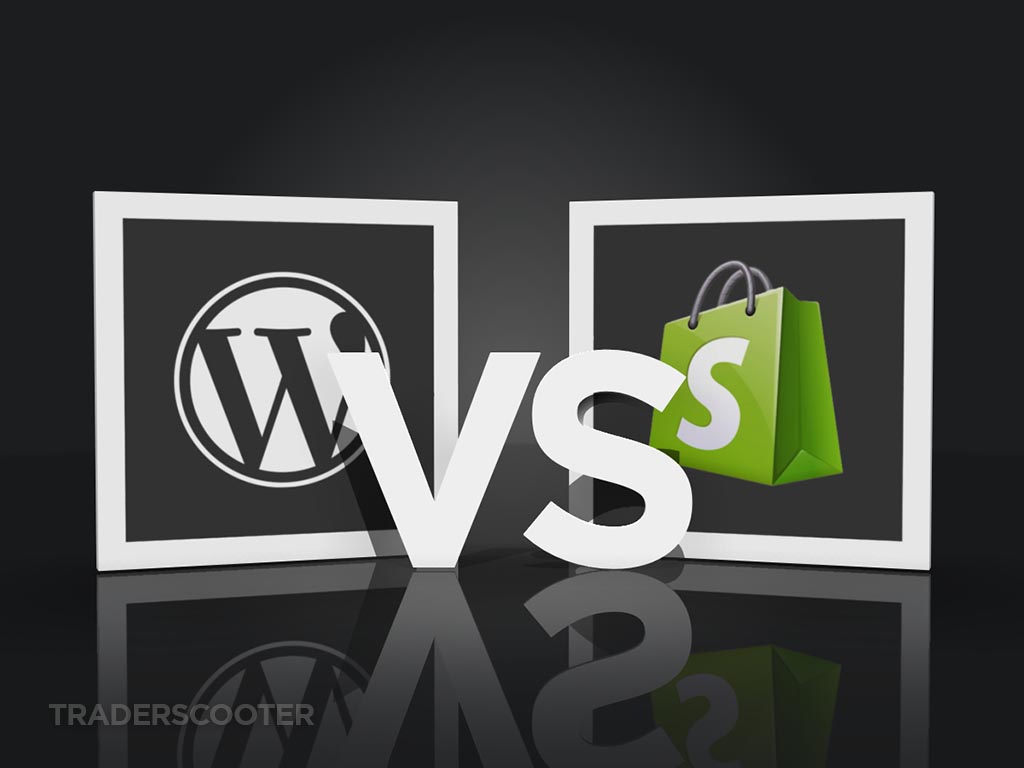 Pros and cons of using WordPress as your e-commerce solution
Before getting into the meat of this pros and cons list, you have to know that I'm already a huge WordPress fan. I've built my entire online business on the WordPress platform, and I have no intention of switching to anything else for my blogging needs. With that being said, let's have a look at all the good and the bad:
Pros
Developer support is spectacular with WordPress. It's the world's most popular blogging platform, and the answer to nearly any question is just a single Google search away.
There's a plug-in for nearly anything. If your primary goal is to use WordPress as an e-commerce solution, it's not all that difficult to get it set up that way. For example, WooCommerce is a fantastic plug-in which will transform your WordPress site into a legitimate (and professional looking) e-commerce solution.
This goes without saying, but WordPress is a fantastic content management system. The way that it helps you organize and present different kinds of content (text, video, images, etc.) is unmatched.
Cons
If there's anything to take away from this WordPress vs Shopify comparison, it's that WordPress wasn't built for e-commerce. The amount of time that it's going to take you to set up and then maintain your WordPress site as an online store is not insignificant. It's going to take some work.
You're likely to run into problems along the way due to the number of third-party plugins needed to make it work as an online store. Tread carefully if you're determined to use WordPress as a feature-rich e-commerce platform.
Pros and cons of using Shopify as your primary e-commerce solution
I actually laughed a little as I wrote that header. I mean, using Shopify to sell products online is (by far) the best solution available. Period. I've already written about the pros and cons of Shopify vs Amazon (and Gumroad) in other posts. However, for the sake of comparison against WordPress, here I go again:
Pros
It just works. Seriously, there's no better solution than Shopify for creating a legitimate and professional-looking store within minutes. Everything you'll need to help you be successful (marketing tools, payment processing, free themes, etc.) comes with the basic plan. For most people, that's more than what will be needed to start.
It's fast! I personally use WP Engine for hosting my portfolio of websites. It's fast. However, my Shopify store is the fastest of them all.
I've been on Shopify since 2015, and I've never once had an issue of downtime. The Shopify server network is incredibly reliable, and you won't have to worry about your store crashing at the most inopportune time.
It's so nice not to have to deal with back end server issues! Since Shopify is a fully contained e-commerce solution, the only thing you need to worry about is making your store as great as it can be. You don't need to mess with things like server set up and optimizing your pages for faster loading times. The Shopify team will take care of all of that for you.
Just as it is with WordPress, developer support for Shopify is extremely good. There is an app or plug-in for nearly anything you'll need, and you won't have to go anywhere else to find seamless integrations for things like email marketing, upsell's, and discount codes.
As expected, customer support is very good. To be honest, I haven't had the need to reach out to customer support very often (since everything works so well). However, I've been more than satisfied with the response for the rare times that I've ever had to contact them about something.
The Shopify community is very active as well. It's an excellent place to talk with other Shopify users and get quick answers to any questions you may have.
Cons
Shopify is a pretty lousy content management system. What I mean by that is it's a clunky blogging tool, which makes it difficult for me to format my text content just the way I like. But then again, I'm not writing very much on my Shopify store and I save all my writing for my associated WordPress blog.
There is a monthly fee associated with it. If you're making money, this won't be an issue at all. However, for people just getting started, having to shell out $29 a month can be a difficult pill to swallow.
Why would you want to use WordPress instead of Shopify?
WordPress has been around for a very long time, and there is an immense amount of developer support for it. In other words, there is a plug-in and theme that will allow you to do pretty much anything.
WordPress is great because you can shape and mold it into pretty much whatever you need. Right out of the box, it's arguably the best blogging platform there is. However, with plug-ins such as WooCommerce or Easy Digital Downloads, you can turn your WordPress blog into a legitimate e-commerce store. A store with all the required elements such as shopping carts, order processing, and customer accounts.
But again – I'm personally using WordPress for what it was built for: Blogging. It does a fantastic job of allowing me to write about my products in the cleanest and most organized way possible. A way that Shopify can't do.
Why would you want to use Shopify instead of WordPress?
Unlike WordPress, Shopify was built from the ground up to be the world's easiest and best performing e-commerce platform for normal people like you and I.
Within minutes of creating an account (click here to get a free trial), you'll have a fully functioning e-commerce store capable of selling anything. I personally sell digital products, but Shopify can also work with physical products. As a matter fact, that's what it was built for.
Not only that, there are tons of apps and plug-ins available for Shopify to help you with things like email marketing and fulfilling orders. It's truly the best solution for selling products on the Internet. It's even better than Amazon in my opinion, since Shopify allows you can to see who your customers are.
Yes, it is possible to get WordPress working like a legitimate e-commerce store such a Shopify. But it takes work. You're going to need a lot of plug-ins to get it working exactly the way you want, and that can cause trouble down the line. All it takes is one update for everything to fall out of sync and you'll have to spend hours troubleshooting why things aren't working as they should.
The bottom line is that you need Shopify if e-commerce is your primary goal. If you've got a lot of products to sell, it's going to make your life a lot easier in the long run.
It's true. Shopify and WordPress can work seamlessly together!
I've already touted the benefits of using both Shopify and WordPress together in other posts, but it's so important that I'm going to drive port home that point even further.
To give your customers the best possible e-commerce experience possible, you need to do two things:
Provide engaging content
Offer amazing products (and an incredibly easy way to purchase them)
I do this by using both platforms in conjunction with one another. This isn't a WordPress vs Shopify issue – I'm having extremely good success using both. 
How I use both to help me grow my online business
My WordPress site and Shopify store are branded similarly. For example, I use [brandname] for the name of my blog. For my Shopify store, I simply call it "Shop[brandname]".
I write informational articles on my blog about my products. FYI, I'm using SEMrush to accurately find keywords that people are actively searching for (which are related to that topic). I then write about my products in a way which satisfies the search intent of my readers.
For example, if I'm writing about "cat food", I'll use the SEMrush Keyword Magic tool first to get a list of all topics about "cat food" that people are searching for. If SEMrush tells me that lots of people are searching for "cat food for lazy cats", I'll write my post around that.
Of course, I'll have plenty of links to my Shopify store – which point directly to cat food that is best suited for lazy cats.
Note: I do not link back to my blog from my Shopify store. There's really no need for it, since the primary goal is to get people to my store to buy my products. Once they're there, I don't really care if they go back to my blog or not. Additionally, I don't want to get penalized by Google for creating unnecessary backlinks. It's probably not a big deal, but I'd rather not take any chances.